Malibu High School and Middle School Phase 1 and Other Projects
Posted by Kelcey Davis on 4/22/2021 8:00:00 AM
New Building (Building AB)
The New Building is nearing completion as the building interior, exterior and site work is approximately 93% complete.
A few of the significant and recent accomplishments include completing:
The landscaping on the streetside of the building
The installation of the upper deck skylight installation over exterior walkways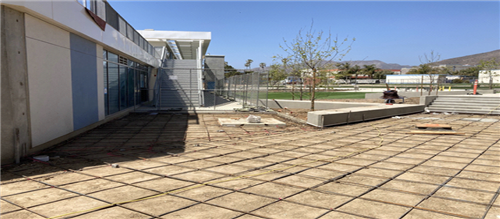 Concrete formwork with rebar waiting for concrete pour 4/12/21 between Buildings AB and E.
Malibu Middle/High School Campus Plan: Phase 1 New High School Project
Beginning April 1, 2020, the District worked with NAC Architecture in collaboration with KEA Architects, school teachers and staff, students, and the local community to obtain input regarding the New High School Project.
The Design Development Phase kicked off on March 15th, 2021.
Schematic Design Phase is complete, and approximately 30 meetings have occurred with various key stakeholders to date.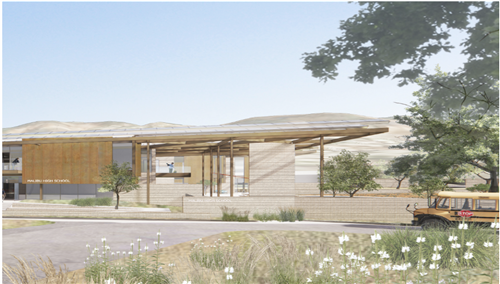 Rendering: A natural material palette of concrete, weathered metals, glass, and natural timbers will give durability while maintaining a warm and informal feel.
Building E
Work on the building interior, exterior and site work is 97% complete for Building E. Other accomplishments include:
Salto electronic door access has been installed in all classrooms
The last steps to finalize Building E include completing concrete placement of new walkways, stairs, and & ADA ramp leading to and from Parking Lot D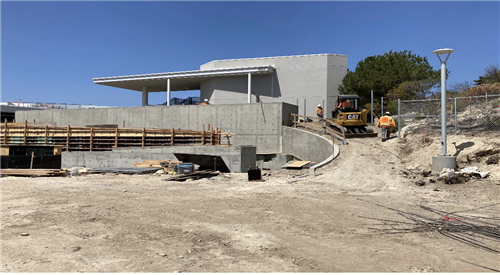 ADA switchback ramp work in progress.
Building D Demolition
Former Building D footprint is 95%.
Recent Accomplishments include:
Synthetic Turf installation at the MS courtyard
New handrails leading from Building H to Building AB have been completed
Current projects include:
Fire Lane installation moving towards Morning View with concrete placement along with walkway path of travel
Landscaping & irrigation of areas adjacent to fire lane and planters at MS courtyard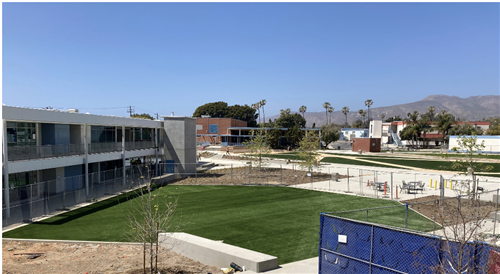 Installation of Synthetic Turf at MS courtyard has been completed.
Morning View Drive Road Improvement
Recent accomplishments include:
SoCal Gas completed the gas valve relocation work adjacent to the Church property
Completed remaining curb & gutter section once SoCal Gas completed its efforts
Completed street asphalt overlay and permanent striping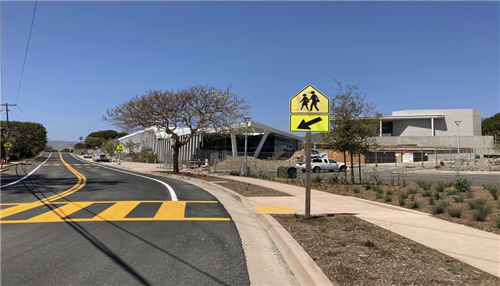 Morning View Drive new pavement and permanent striping ready for students to return to school.