Samohi Discovery Building Progress, the Library is almost ready for Students and the Field is nearly Complete
Posted by Kelcey Davis on 1/20/2021 8:00:00 AM
Discovery Building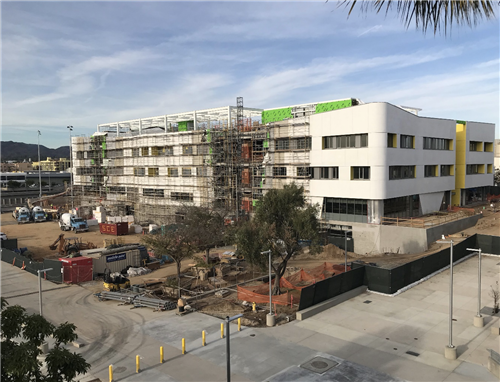 The exterior of the building is nearing completion on the whole building with the exception of the courtyard and the two stairwells on the western side. Work on the floor is progressing well enough in some areas to enable some of the following trades to start, including the installation of internal walls, creating classrooms. Finishing work in restrooms on all levels has progressed well, which will allow for the installation of fixtures to begin next week.
Library Refresh
The library is now complete! The new furniture has been installed and books and equipment have been moved back and the shelves have been stacked. All IT hardware has been hooked up and is now functional
The library is looking great!
Football Field Replacement
The football field is complete and ready to be used. We can't wait for students to enjoy this beautiful field once we are able to get back to playing sports!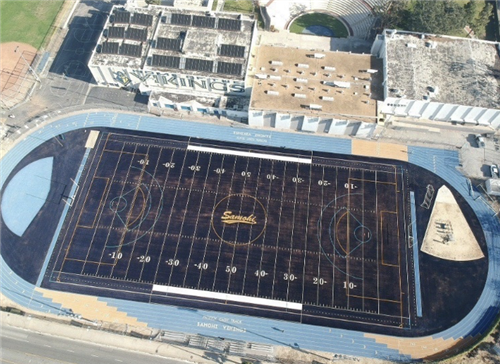 Phase 3
Abatement and demolition of the Cafeteria, Pool, History and Art buildings is scheduled to start in June 2021 and construction of the new building will begin in January 2022.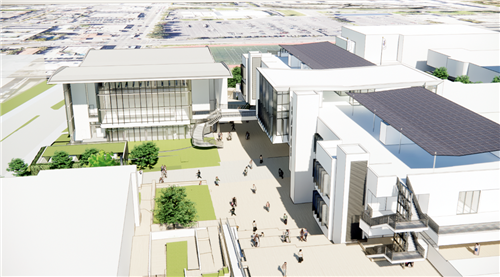 Business Building reconfiguration
The Business building re-purpose is currently out to bid. This building will be used for some of Art and to launch the new programs, all of which will be housed in the Exploration Building, once complete in the fall of 2023.
The new Academies will include: Project Lead the Way Engineering; Law, Justice, and Policy; Sports Medicine, Health, and Wellness; and Digital Media.
Although the schedule is for the work to begin in June 2021, we want to take full advantage of the available time, should in-person classes not begin until the fall. That means that we will be in a position to begin construction in April, if that opportunity becomes a reality. In theory, work should not start on the buildings until Discovery is available for occupation next summer
Art Gallery
The existing Textbook Office, located in the lower level of the Admin Building will be converted into the new Roberts Art Gallery. This project is also currently out to bid.
Discovery is on track to accommodate the new Distribution Center in the new building by May, which will free up the space for the construction of the new art gallery at that time
Signage
The new Michigan Gate signage is complete and makes for a beautiful entrance to the school.