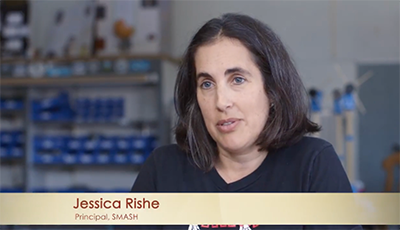 Watch the Video >

SMASH was one of 4 US public schools selected, studied and featured in a written report and video by the Stanford Center for Opportunity Policy in Education (SCOPE) for the ways we "organize and structure teacher time and work so that teachers are encouraged to collaborate with one another in our efforts to enrich teaching and learning." Stanford's research team spent two different weeks observing in our classrooms, attending staff meetings, interviewing teachers, and filming. (SMASH teachers begin speaking at the 3:49 marker and are threaded throughout the remainder of the video.)

SCOPE also published a written report just about SMASH entitled "The Kids Benefit From It, So It's Worth It: Time for Teaching and Learning at SMASH."
Here is the link to the full 45 pages >

SMASH staff members are grateful to SMMUSD and our SMASH families for all the encouragement and support that makes all of the above possible!